What Ever Happened to Global Warming?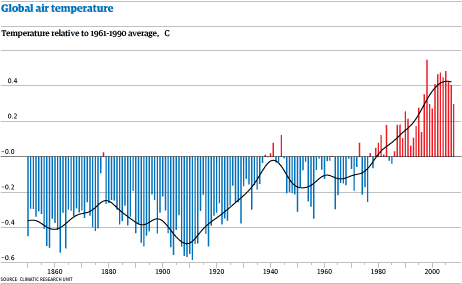 I'm not sure if it's because we were so focused on a presidential campaign--but don't they usually talk about these things quite a bit during campaigns? Or maybe it was because the world economy went south, and the propagandizers that be realized they couldn't add greater economic catastrophe on top of economic cataclysm? I guess if we really are killing the earth that it's going to have to get in line behind all of our other problems. At any rate, not as many people are talking about global warming anymore.
Maybe they're not talking about it because
My greatest fear amid all of the propaganda about global warming is that government will be given the responsibility to fix the problem, because government has been part of this problem all along.
2008 was the coolest of the last ten years on record, and that the trend is downward. This year's cooling is primarily because of a La Nina effect. But if the globe were warming, why is the trend going down? It seems like natural variations, such as La Nina, have a much greater effect on global climate than many of those--whose livelihoods depend on us believing their propaganda--want us to believe.



"The debate is over." "The science is in."

These two statements are so easily dripped from the tongue. But the debate is far from over. Fortunately, during a year of La Nina, the debate itself has cooled off as well. The NASA scientists in the following video story make two important points: (1) that they do not believe that man is the primary cause of global warming, and (2) that many of the so-called scientists who signed on to the study from the Intergovernmental Panel on Climate Change were actually nothing more than environmental activists with few science credentials. And thus a controversy, padded with propaganda, is really not a "concensus".


So, global warming is slowing? Not to worry:

In March, a team of climate scientists at Kiel University predicted that natural variation would mask the 0.3C warming predicted by the Intergovernment Panel on Climate Change over the next decade. They said that global temperatures would remain constant until 2015 but would then begin to accelerate.
Glenn Beck replies:

I'm trying to get my arms around this "Natural variation would mask the warming thing." Let me see, because I'm an alcoholic, I speak bullcrap fluently. Let me see if I can translate that from bullcrap to English. They're saying that cooling will mask the warming. Cooling will mask the warming. See if I have this right. I mean, I'm not a scientist, but I'm a thinker, and help me out. Stu, if cooling is masking warming, then wouldn't it just be cooling?
Are there problems in how we carry out our stewardship
over the earth? Absolutely. We need to reduce pollution. We need to stop making third world countries the dumping ground for Western decadence. We need to stop clear cutting forests. We need to make sure that our development isn't at the expense of the next generation. But, regardless of all of this, far too many people give the earth much less credit than it deserves when it comes to its resiliency.

Government has been part of the problem when it comes to destruction of the environment. The greatest environmental degradation occurred in former Communist countries. My greatest fear amid all of the (currently thankfully less) propaganda about global warming is that government will be given the responsibility to fix the problem.

Maybe we should just let this failing economy drag along for a little longer? Or at least I sure hope we have another La Nina next year. Because it sure has been nice not to have so many people lately whining that the global warming science is in and that the debate is settled.