How Glenn Beck is Like Lucifer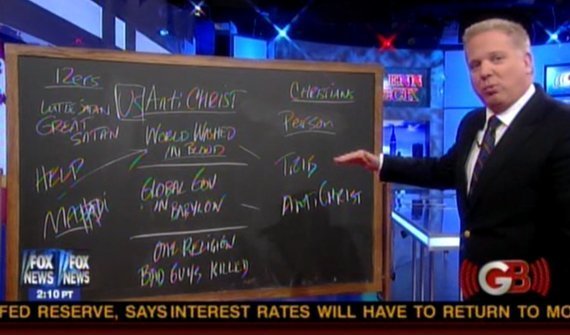 Glenn Beck at the chalkboard
Some liberals would probably find it highly satisfying to hear me say that Glenn Beck is just like Satan, but that's not what I'm going to say. We're all at least a little bit like Lucifer, to be right honest, because none of us are perfect. But Glenn Beck is a little more like Lucifer than most people would think. One of Satan's greatest ploys is to mix truth with falsehood. Glenn Beck uses this tactic on a regular basis.

Some time ago, I wrote an article about how
Harry Reid is like Lucifer
, which generated a lot of anger from some readers. It will be interesting to see whether this article will generate even more anger.
Utahns were fooled en mass by George W Bush, having voted for him overwhelmingly in both 2000 and 2004. Mitt Romney, despite subscribing to a socialistic health care scheme that is helping to bankrupt the state of Massachusetts, has become the poster child of many allegedly conservative Republicans. It is probably with this knowledge of Utah naivete' that snake oil salesman Glenn Beck has chosen Utah as Ground Zero for his
American Revival tour
this summer.
I listen to the Glenn Beck program every now and again just to make sure that it is still stupid. Nearly every time I tune in, he's exaggerating some claim against Barack Obama, calling someone an idiot, claiming credit for the Tea Party movement, or petting himself for some other heroic act. Which is why I'm not very confident that his American Revival tour will be based exclusively on "faith, hope, and charity" as a recent radio ad told me.
How can anyone take seriously that a person who wrote a book entitled "Arguing With Idiots" can be an authority on faith, hope, and charity?
In the Garden of Eden, the uber-snake oil salesman plied the lying trade with great craftiness. When Eve balked at partaking of the fruit of the tree of good and evil because she had been told that it would bring death to her,
Satan replied with a mix of truth and lies
.
And the serpent said unto the woman: Ye shall not surely die;

For God doth know that in the day ye eat thereof, then your eyes shall be opened, and ye shall be as gods, knowing good and evil.
It was true that if Eve and Adam ate of the forbidden fruit they would know good from evil, but it was a lie that they would not die. Half truth, half lie--that's okay isn't it?
If not, you probably ought to find a different source for your news and rabble rousing than Glenn Beck. Beck mixes truth and falsehood with the best of them.