Televangelist Ousted: Mitt Romney is Satan. Muhammad a Murdering Pedophile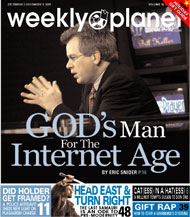 People have the right to say stupid things, but they don't have the right to use other people's forums to say it. The Council on American Islamic Relations claims success for getting televangelist Bill Keller off the air, but it was just good business sense, really. Bill Keller has assiduously exercised his right to be un-Christian, making a fool of himself in the process.

A "1,400-year-old lie from the pits of hell"? A "murdering pedophile"? This could probably be said about some Christian televangelists, but not about Muhammad, the prophet of Islam. Yet these were claims made recently on a no-longer-extant Christian(?) ministry show. He also said that "if you vote for Mitt Romney, you are voting for Satan."

Rosie O'Donnell wasn't anywhere close to right in claiming that fundamentalist Christianity is as bad as fundamentalist Islam, unless you count Bill Keller, from the fabulously successful "Live Prayer with Bill Keller". I made up the "fabulously successful" part.


Since launching his Live Prayer Internet ministry in 1999, Keller has also upset Mormons, Jehovah's Witnesses and Scientologists by calling them false religions and cults, the Times said.

Keller claimed that

"Ultimately, it was pressure by CAIR that intimidated these people into taking me off the air," Keller told the newspaper. "It was not mutually agreeable. They told me they were taking me off the air, period."

No, your show just sucked, sir, said the TV station.
That [CAIR had anything to do with the cancellation] was disputed by WTOG Station Manager Laura Caruso, who said the decision was a programming one, made mutually.
Keller, 49, was told by station officials his contract originally due to end in December would be canceled as of Sept. 11.

I can't imagine too many people were watching his numbskull show in the first place.