Are You Going to Get the New Monopoly Enviro Edition?
It's only 71 days away--you can get the environmental edition of the ever-popular Monopoly Board game. Are you going to get your copy? I think I probably will.
Monopoly has been one of my favorite board games ever. I have the original edition, the German edition, and the U.S. Army edition. The new "World" edition sounds like a pretty cool idea--as long as I don't have to become a part of the European Union.

;-)

Grist has this to say about the soon-to-be released game:

"Refuse to play Monopoly because you fear Electric Company sources its power from coal? Fear not! Game-maker Hasbro is updating everyone's favorite interminable game, and in the Here and Now: World Edition, Water Works and Electric Company will be replaced with Wind Energy and Solar Energy."
Amazon.com adds that

Streets will be replaced by cities around the globe, chosen earlier this year by fans on Monopoly's website. So while you may be skeptical about the lessons your child is learning while buying up large cities in an attempt to own the world, at least you can feel good about the fact that they are learning to eschew fossil fuels. Or, well, as long as they don't buy any of the modes of transport (land, sea, air, space) replacing the railroads in this new edition. I guess when you're buying up the world, telecommuting just doesn't cut it. But, hey, at least the water will be free!
Many of you probably think that just because I don't subscribe to the blame-man-for-global-warming mantra that I think we should run rough-shod over the environment. Not true. I think it's great that wind turbines are popping up in places where wind power makes sense. If solar panels were a little cheaper--and didn't cost something like 20 years to break even--we'd probably become more self-sufficient at our house in that regard. We are, though, on the verge of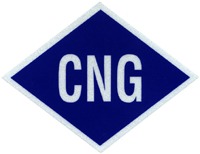 taking the plunge to outfit at least one of our cars to use compressed natural gas (CNG).
With the potential of saving at least $6 per day for about 250 work days a year, plus other driving errands, the break-even point on that investment could be as soon as 2 and a half years.

So to restate--I think that (1) man is not causing global warming, but (2) we should be responsible environmental stewards anyway, and (3) I like the idea of the new Monopoly World edition.

How about you?