Satellite Shootdown: Safety Precaution or "Star Wars"?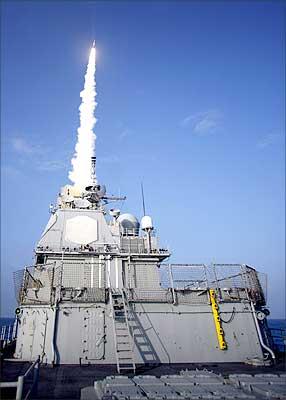 In 1983, Ronald Reagan proposed the Strategic Defense Initiative. It was quickly and consistently derided as "Star Wars". Reagan hated the term. It was never his intention to use it as an offensive weapon, but will his successors use it offensively? Some, including the Russians, believe that with the shootdown of a reconnaissance satellite last night, that's exactly what the United States is doing. The counterclaim was that the satellite was shot down at high altitude as a safety precaution.
Who's right?
China was roundly criticized--and the US secretly worries about the military implications of it all--when, just over a year ago, it shot down one of its older satellites.

Very similar criticism of the US came from the former Soviet Union last night, when America shot down one of its satellites, officially as a safety precaution.

The satellite was traveling at upwards of 17,000 mph with 1,000 pounds of hydrazine--that's "a hazardous fuel which could pose a danger to people on Earth," as the Department of Defense explained in a release.

U.S. plans [for] destroy[ing] the satellite sparked an outcry from Russia, which accused the United States of using the incident as a thinly veiled excuse to test its missile defense systems. The Russian Defense Ministry argued that the Pentagon had failed to provide "enough arguments" for the operation.
Are the Russians right? In this case, I don't think so, because the satellite contained hydrazine as a fuel, which is dangerously unstable, and which can cause serious symptoms in humans.

It didn't help anything that a senior, unnamed US Defense official exclaimed that

"It was like something out of Star Wars!"
In the long term, maybe the Russians are right.

When Ronald Reagan envisioned the Strategic Defense Initiative, he clearly saw it as a defensive endeavor. Now that China can shoot down satellites, perhaps we need that kind of defense in space. But one thing I never thought of, although it's pretty obvious (I'm very naive at times...): I always imagined America's Strategic Defense to be America based.

Well, that's not how it's turning out.

Instead of reducing American dominion throughout the world, we are using the "War on Terror" to vastly increase it. Infoshop News reports that

Over the past forty five years, the US has been developing various missile defense systems... The basic idea is to combine satellite technology with the use of anti-ballistics missiles (ABMs)which would counter first strike missile attacks. The most famous of the US projects was SDI, Reagan's infamous "Star Wars" program. Its current incarnation, the US National Missile Defense Program, is being sold to the world as a necessary element in the "war against terror". The US claims that, in order to protect itself from missile attacks from such "rogue states" like Iran, it needs to install elements of its anti-missile defense system on bases in Europe. Most notably, it wants to build two bases in Central Europe, one in the Czech Republic to house radars, and another in Poland to house missiles with nuclear warheads.
Ah, the bogey monster! It solveth a multitude of Orwellian problems!

I am convinced that if Ronald Reagan were still alive and politically active that he would be appalled at current American imperial military overstretch. That's not what Reagan had in mind at all. But, unfortunately, that's the monster that he helped to unleash.

Perhaps "Star Wars" is the right term after all. Perhaps the Russians are right as well.